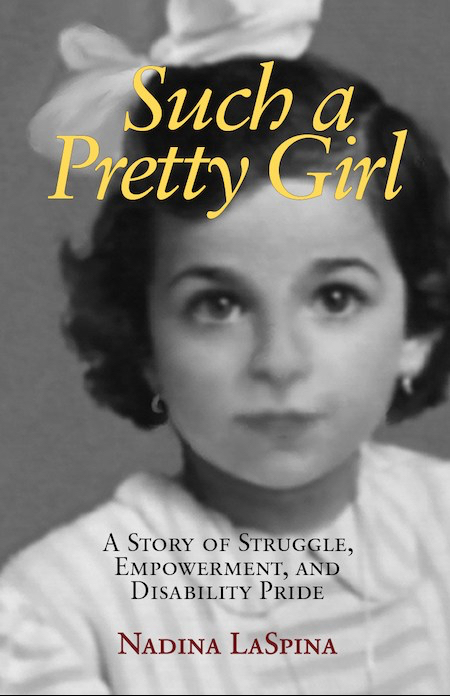 Such a Pretty Girl
A Story of Struggle, Empowerment, and Disability Pride
Nadina LaSpina's authorial debut
"From the first vivid chapter set in Sicily to her gutsy activism in the U.S., LaSpina's triumphant memoir of a richly lived life held me rapt."
—Alix Kates Shulman
"A memoir fueled by passion and grounded in history. Nadina LaSpina's beautifully written narrative reveals a conscientious citizen and an exuberant and vibrant woman. Such a Pretty Girl is ultimately a love story."
—Simi Linton, author My Body Politic
"A feminist, personal perspective on disability. One of the main themes is the author's developing ability to claim and enjoy her own beauty and sexuality."
—Gillian Kendall, coauthor, How I Became a Human Being
In her poignant and gripping memoir, leading disability rights activist Nadina LaSpina shares her unforgettable story and reveals how the disability rights movement changed the course of history.
"Such a pretty girl." It was a refrain Nadina LaSpina heard frequently in her native Sicily. What was sometimes added and always implied was that it's a shame that she's disabled. Contracting polio as a baby, LaSpina was the frequent target of pity by those who dismissed her and her life as hopeless. Arriving in the U.S. at thirteen, she spent most of her adolescence in hospitals in a fruitless and painful quest for a cure, which made her feel that her body no longer belonged to her. Against the political tumult of the Sixties, LaSpina rebelled both personally and politically. She refused to accept both the limitations placed on her by others and the dominant narrative surrounding disability. She also took to the streets with the then fledgling disability rights movement that has changed both law and perception in the U.S. As an activist, LaSpina has been arrested numerous times and she was an important figure in some key struggles, including those that led to the passage of the Americans with Disabilities Act.
Such a Pretty Girl: a Story of Struggle, Empowerment, and Disability Pride (New Village Press, July 2019) is at once a story of an activist, a disabled woman in an ableist world, an immigrant, and a feminist.
---
You can also buy the book from other online vendors, such as AMAZON and Barnes & Noble, as well as from local bookstores.
If your bookstore doesn't have it, you can ask them to order it.